Hope in the Heart of the Big Apple
Crossposted at One Million Strong and DailyKos.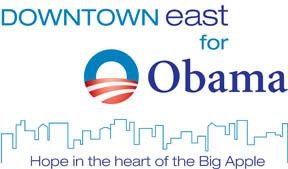 I'm a member of a merry little band of Obama volunteers in New York City. This is the story of what we're doing on the ground.
I'm just one person in a small group in a big city in a very big Super-duper Tuesday state, a state in which the front runner in the race is a popular U.S. Senator.
Our group, Downtown East for Obama, may be a small piece of the overall campaign, but we've had a big impact. I'm very proud of what we've accomplished, and have seen first hand that Obama supporters are the most fired up, hard-working volunteers out there. It's exciting to imagine groups all across this city, state and nation doing their part--just as we've been doing ours--to help Barack win the nomination.
Before New York had an official Obama campaign presence, a network of local volunteer groups scattered around the city was already building support for our candidate. In September, when a very large rally was announced with only 10 days notice, volunteers showed up in droves to help make the record-breaking (24,000 attendees) event a huge success.
In mid-October New York volunteers picked it up several notches. The campaign opened it's NYC headquarters and we began to prepare for petitioning.


Petitioning for Obama
The petitioning process in New York State--which I knew nothing about a few weeks ago--is tedious and archaic. Each candidate has to get 20,000 signatures from registered Democrats statewide and 500 signatures for the delegate slates for each Congressional District. In reality many more signatures are needed because not all of the signatures will end up being valid. A challenge-proof number is required.
To complicate things, many New Yorkers don't seem to know how their primary system works. Standing on a street corner calling out "Help get Barack Obama on the ballot in New York," brought a lot of surprised looks from passersby. Many would call back, "Why isn't he on the ballot?" which gave us an opportunity to explain the situation. Occasionally someone would yell out "He's already on the ballot!" and keep walking. New Yorkers are nothing if not skeptical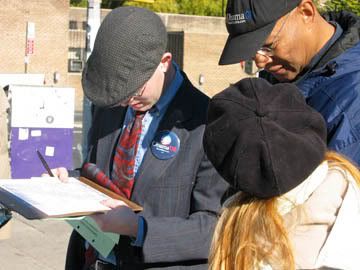 My group's first effort was to organize a petition training session for one of the city's Congressional districts. The turnout for the training was encouraging--nearly 50 attendees, and only 10 of them had ever petitioned before. We were given instructions on securing valid signatures (did I mention how tedious and archaic our system is in NY?), and on how the process was going to be organized.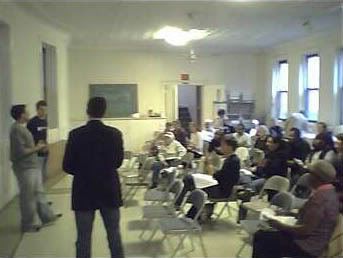 Downtown East then set up petitioning events in the 3 Congressional districts that our group straddles in lower Manhattan and encouraged our members to sign up. We scheduled 3 to 4 events for each week, and at least 4 people came out for each one; some events brought out 10 or more. A number of our really fired-up volunteers petitioned on their own on days when nothing was scheduled.
We had a dedicated and experienced Spanish-speaking crew, anchored by the unstoppable Carmen, who tabled and petitioned in the latino sections of the Lower East Side. They gathered hundreds of signatures in the first couple of days.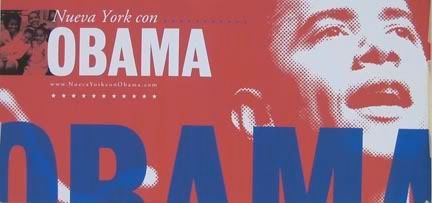 Downtown East was out petitioning on beautiful, sunny days and cold, windy, rainy days. We were out for a couple of hours after work, and full days on the weekend. We kept gathering signatures until HQ told us that the goals had been met. We even ventured to other parts of the city where extra petitioners were needed. Did I mention how proud I am of our group?
Here are some of the volunteers who spent a Sunday helping Obama get on the ballot.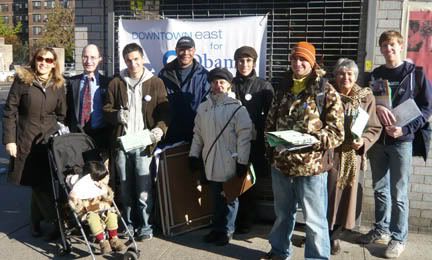 A Few Observations
Howard, our group's fearless leader, said it best: "The name 'Obama' punctures the wall that New Yorkers have around them." Our candidate's name is a real attention getter. Even skeptics who didn't understand why we were out there gave us a smile and a thumbs up.
Hillary definitely does NOT have a lock on New York. Of course, we did encounter Hillary supporters, (one woman in our group got yelled at by a female Clinton supporter for being a woman and supporting Obama), but overall people seemed excited about Obama, and took great pleasure in signing for him. Many expressed strong support for him; others quietly asked, "Do you think he can beat Hillary?" Of course we said "Yes!"
Many foreign tourists stopped to chat with us. It seems that Europeans, Aussis and Canadians love Obama. They all "wished they could vote" in the elections here and voiced excitement about what an Obama presidency would mean for America and for the world. We also found that Independents, Greens and others who couldn't sign petitions favored Barack for President.


A personal note about volunteering
I'm not the kind of person who stands on street corners yelling out to strangers to sign a petition. I'm your typical reserved, stay-out-of-my-face New Yorker. I'm also naturally shy, though I've overcome that to a large extent over the years. In other words, petitioning isn't something I would have ever seen myself doing, much less enjoying. In fact, it was extremely gratifying collecting signatures from people who are as inspired as I am by Barack Obama. I'd finish up a day of petitioning and look forward to the next time.
To those of you who don't see yourselves getting out there to knock on doors, collect petition signatures or make phone calls: Give it a try. If you'd like to volunteer for Obama but don't know how to get started, shoot me an email.
I'd like to thank everyone who came out to petition with Downtown East, including Carmen, Livia, Howard, Paul, Susan, Lamont, Ashley, Sean, Adbul, Noah, Patrick, Maria, Jane, Eric, Carmen (2), and anyone else I forgot. You guys ROCK!
Special Announcement

New Yorkers, you have a chance to be a part of history. Barack Obama will be at the Apollo Theater in Harlem this Thursday night. This is likely to be the last time he comes to New York before the Iowa Caucus. Click here for information and tickets.
http://dailygotham.com/blog/casperr/hope_in_the_heart_of_the_big_apple
Mouse over the text to select it, then press Ctrl-C to copy it.
Submitted by casperr on Sun, 25/11/2007 - 3:23pm.
On This Day