NYC Water Rates Continue to Shoot Through the Roof
I have often complained about how here in NYC we have seen mass transit quality fall sharply (my wife even recently said she feels it is just starting to get as bad as it was in the 1980's) while the rates per ride continue to go up, up, up.
But recently, while going over the finances of my apartment co-op, I realized that there is another area where New Yorkers are being charged more and more and more...our water rates. I noticed how starting in 2007 water rates started going up far more sharply than before, and realized that this made little sense when one considered the rate of inflation. So I decided to compare on a year by year basis our water rate increases to the rate of inflation over the past decade. Here's what I found:
WATER RATE INCREASES FOR THE PAST DECADE:
(taken from the NYC Waterboard Website and from Bureau of Labor Statistics)
2011: + 12.9%
2010: + 12.9%
2009: + 14.5% (inflation: -.4%)
2008: + 11.5% (inflation: +3.8%)
2007: + 9.4% (inflation: +2.8%)
2006: + 3% (inflation: +3.2%)
2005: + 5.5% (inflation: +3.4%)
2004: + 5.5% (inflation: +2.7%)
2003: + 6.5 (inflation: +2.3%)
2002: + 3% (inflation: +1.6%)
2001: + 1% (inflation + 2.8%)
So really, before 2007 inflation and our water rate increases were not that out of sync. But starting in 2007 our water rates have started going up like crazy even though inflation has continued to be very low.
So my question is, where does that money go?
Interestingly, water usage has been going down just before the switch. This is a graph that covers up to 2006:

(from Columbia).
For more up to date info click here and go to the bottom chart.
Our reservoirs all seem at or near capacity: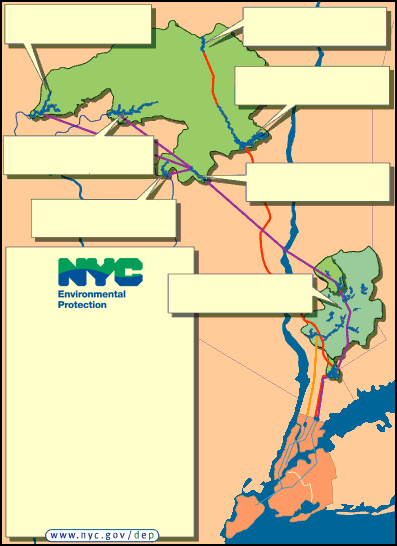 (click here if the numbers aren't showing).
And the last NY State drought I find mentioned was in 2002, well before this sudden increase in the rate at which our water rates are going up.
So can someone explain to me why if inflation is low and supplies are good and consumption has been going down, why are our rates going up so fast? Who is making money off our need to drink water?
http://dailygotham.com/mole333/blog/nycwaterratescontinuetoshootthroughtheroof
Mouse over the text to select it, then press Ctrl-C to copy it.
Submitted by mole333 on Thu, 23/12/2010 - 6:12pm.